About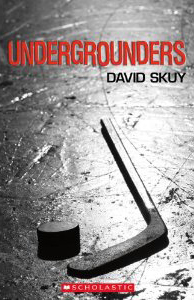 Summary:
Jonathon has it tough. He has been forced to live on the streets – but he considers himself one of the lucky ones because he has a place to sleep every night – The Underground. In an abandoned building, he and his fellow Undergrounders are safe. But he cannot stay there all the time. Up on street level, his life becomes a desperate struggle to beg enough money for food and to stay warm. His life changes dramatically when he gets hold of some skates and a stick. Instead of wandering the streets all day, Jonathon can play hockey on an outdoor rink.
He always makes sure to play alone. That last thing he wants to do is mess with regular kids; and he makes sure to be long gone by the time school is over. One day some kids see him play, though – and Jonathon sure can play! They invite him to join their team. Jonathon cannot resist, and what follows is a wild adventure as Jonathon struggles to keep his street life secret from his new teammates.
Undergrounders gives kids a glimpse into the perils of life on the streets, and how one boy's love of hockey, along with his inner strength, help him battle against the dark forces that threaten to overwhelm him.
Chapter Excerpt       Amazon      Indigo       Scholastic

Undergrounders, Winner, OLA Silver Birch Award, Fiction, 2012