About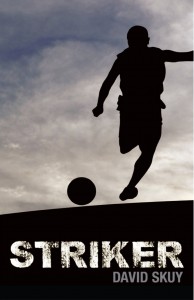 Summary:
"Cancer is just a word, like pizza." That is what Cody tells his overprotective mother to convince her to let him try out for the soccer team. He wants to play more than anything, but after going through treatment to remove a tumour from his leg he's worried whether he'll make it. But that's not all he has to worry about. His dad dealt with his illness by working, and he misses the time they used to spend together; an overbearing team manager sends him to the bench so his son will get all the playing time; and a group of kids make it clear they have no interest in having an "Egg Head" on the team.
Cody is resilient, however; a kid who can handle cancer treatment and then make a competitive soccer team is no quitter. His skills begin to attract the attention of a few of his teammates; and when a new coach arrives on the team, Cody finally gets his chance. But can he overcome injuries and his fear of using his right leg to shoot, the one that had the tumour? It all boils down to one moment, one game; and the team needs him to score.
Striker is a story of courage, loyalty, fear, and teamwork. It's about a kid who summons the strength to push through the pain, and by doing so helps heal a soccer team, his family, and himself.
Striker — a Silver Birch Honour Book.