About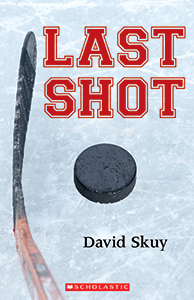 Last Shot
Summary:
"They could mock him all they liked, but Rocket had been drafted, and if he made the cut, it would be a huge step toward the NHL. He'd establish himself as a serious player and put an end to the questions about his size.
Gold said he'd fought for every minute of ice time. Rocket would do more than that. He'd fight for every second."
Drafted into the OHL! Bryan "Rocket" Rockwood can't wait for training camp. It's the next step on his path to a pro career and a better life for his family. But as a last-round pick, a rookie, and the smallest guy on the ice, it will be tough for Rocket to make the team, even without worrying about hazing from the other guys. He has the skills and the drive. Will that be enough to earn his teammates' respect and a spot on the final roster? Or will he finally have to give up his hockey dreams?
Last Shot, nominated for the Manitoba Young Readers Choice Award.
Chapter Excerpt        Amazon       Indigo       Scholastic