About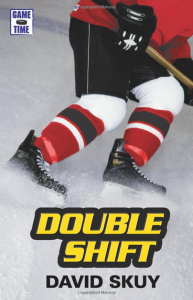 The Charlie Joyce Hockey Series #5
Summary:
Charlie is ready to relax. It was only a few weeks ago that his friends had been hurt in a bus accident, which means they are going to miss at least two months of the hockey season. But he figures the Rebels have the talent to tough it out. The new players are pretty good, especially Spencer on defence.
Charlie underestimates the fact that the Rebels are undermanned again, and the team starts losing. To make things worse, there is dissension in the dressing room as cliques develop between the original Rebels and the new guys. The Rebels are a team divided – and Charlie, as captain, figures it is up to him to fix the damage and get the Rebels winning again.
Only there is one problem: his mom's café may have to close up for good. Without a café, his mom may have to take another job – outside of Terrence Falls. Charlie may not be around to help. This is the greatest challenge Charlie and his friends have ever faced. They have to save the café, and fast, and at the same time save the Rebels.
Is it too much to ask? Find out in Double Shift, the final book in Game Time: the Charlie Joyce Hockey Series.