About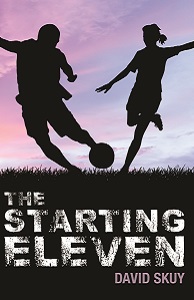 The Starting Eleven
Summary:
"Who Are You, Cody Dorsett?"
Cody isn't sure how to answer. Right now he's striker on the Lions soccer team. But as the season nears its end, Cody will have to question that — and a whole lot else in his life.
First, Stafa Unsal joins the Lions — and he's a striker too. Cody may find himself back on the bench. Then a feud breaks out on the team and the Lions begin to unravel. Cody's best friend has to leave the country and Cody worries he'll be lonely again. On top of that, Cody's parents are thinking of leaving town — and a girl he really likes is treating him like dirt all of a sudden. Cody doesn't know what to do. He only knows he can't fix his problems until he understands who he really is.
Throw in some nasty attacks from arch-rival Timothy, star striker of the hated Storm, and some must-win games to make the playoffs, and Cody realizes he needs to act fast before everything is lost. He desperately wants to put his brush with cancer behind him, only what stands in front of him seems even more scary.
Cody Dorsett was introduced to readers in the Silver Birch-nominated Striker and the best-selling The Beautiful Game. Read The Starting Eleven in the exciting conclusion to this epic soccer trilogy.
Chapter Excerpt       Amazon       Indigo       Scholastic